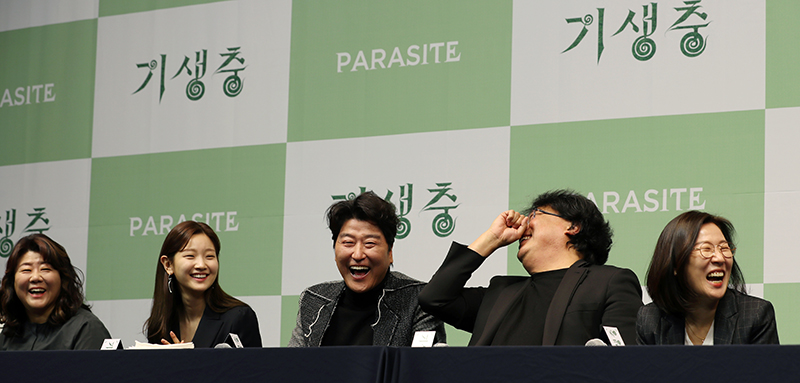 By Lee Hana
Photos = Jeon Han
Seoul | Feb. 19, 2020
"There have been so many memorable moments from the Cannes Film Festival in May last year all the way to this year's Oscars. But ultimately, I hope 'Parasite' is remembered for its cinematic merit."
Director Bong Joon-ho expressed this final thought on his spectacular journey over the past year in a news conference at the Westin Chosun Seoul hotel on Feb. 19 after returning from the U.S.
Bong and the cast and crew of his acclaimed picture spoke to the media at the event, their first in Korea since winning four Oscars, and spoke of their experiences promoting the film and winning multiple awards abroad. Around 500 representatives from over 200 media outlets gathered to meet the cast and crew one last time.
On why "Parasite" struck such a chord with global audiences, Bong said that "unlike (his) previous works 'Snowpiercer' (2013) or 'The Host' (2006), which dealt with the gap between the rich and the poor within the sci-fi genre, 'Parasite' tackles these issues contemporaneously."
"It's a film based in the present, and that's maybe why it has more explosive power," he added.
Bong also said his team "did over 600 interviews and 100 Q&As" and poured more time into their Oscar campaign than in the film's production. "The campaign process gives you a chance to dissect a film and observe how it was made," he said, adding that this allows filmmakers to closely analyze and make sense of their works.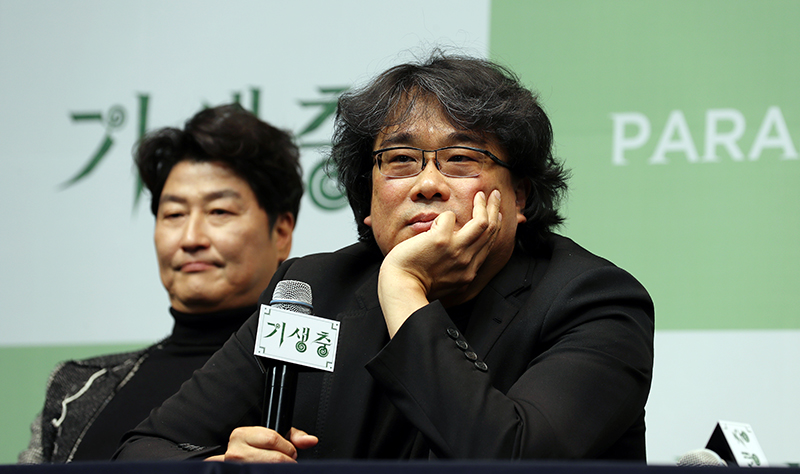 On the black-and-white version of "Parasite" now showing in theaters, Bong said he decided to re-release the film in that format "as a tribute to classic films of the past."
"When 'Mother' (2009) was released in black and white, it added more nuance and layers to the cast's portrayal of the characters. I think it'll be the same for 'Parasite'; it'll be an interesting experience," he said.
Turning to the planned TV adaptation of his film produced by HBO, Bong said he will produce the series, with director Adam McKay expanding the story.
"We hope to develop the idea of the gap between the rich and the poor even further in the new series. It's expected to be a limited series with five or six episodes. Director McKay and I have begun taking the initial steps," he said.
Bong started the news conference with a big smile while mentioning a personal letter he received from American director Martin Scorsese that same morning.
"I won't reveal the contents of the letter, but at the very end, Martin congratulated me on the success of the film. He said I should take a break and also to make a comeback soon," he said, expressing appreciation for Scorsese's words of encouragement.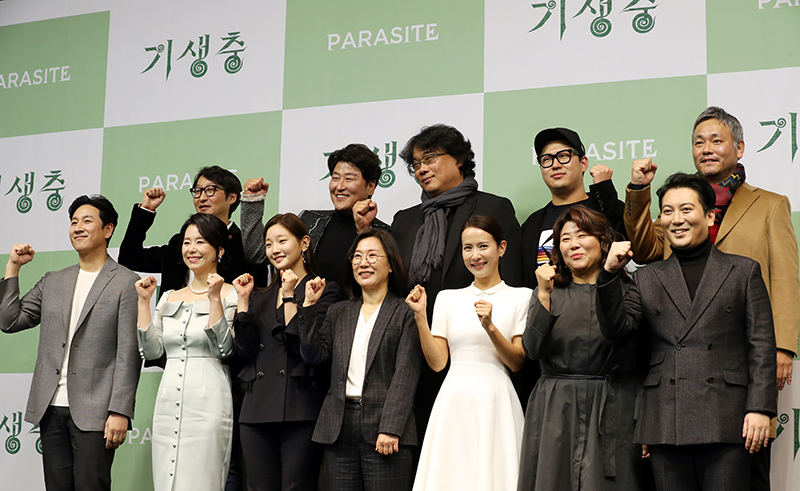 hlee10@korea.kr