By Lee Kyoung Mi and Kim Minji
"After winning (the Oscar for) Best International Feature, I thought I was done for the day and was ready to relax."
"Parasite" director Bong Joon-ho on Feb. 9 (local time) said this in his acceptance speech after winning the Oscar for Best Director, a first by a Korean, at the 92nd Academy Awards in Los Angeles.
At the Dolby Theatre, Bong said he was stunned to accept the Oscars for Best Original Screenplay, Best International Feature and Best Director.
Not only the film's cast and crew but also Hollywood actors and directors shared the thrill and joy of the director's honors. He set a new mark in 101 years of Korean film history and 92 years of the Academy Awards when "Parasite" in the ceremony's finale was named Best Picture, which is considered the highest honor in global cinema.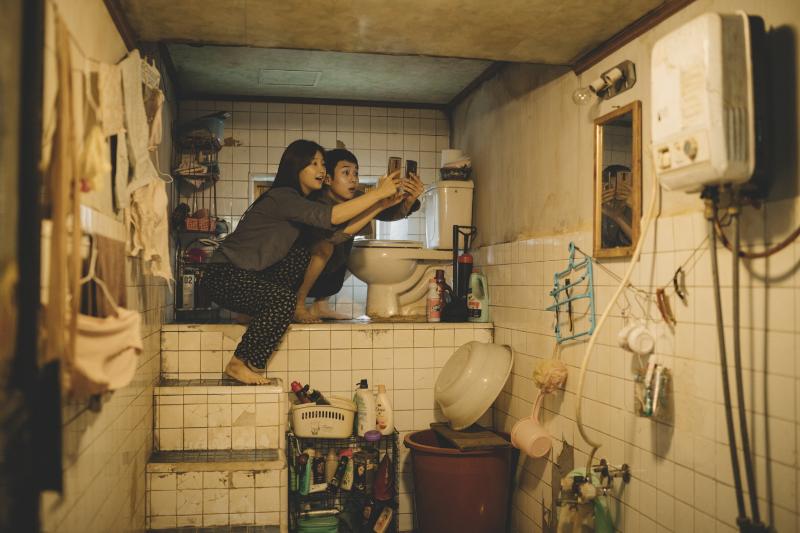 "The category has a new name now, from Best Foreign Language Film to Best International Feature Film, and I'm so happy to be its first recipient under the new name," Bong said in his acceptance speech after receiving the Oscar for Best International Film, adding, "I applaud and support the new direction that this change symbolizes."
Kwak Sin-ae, co-producer of the film and CEO of the production company Barunson E&A, said in her acceptance speech after "Parasite" won Best Picture, "I feel like an opportune moment and history are happening right now."
"I express my deepest gratitude (to) and respect for all the members of the Academy for making this decision."
Starting with the top prize at the Cannes Film Festival in May last year, "Parasite" has won 127 honors from 56 film events in the U.S., the U.K., Germany, Italy, Sweden, Denmark, Australia and Canada.
The work also earned the awards for best foreign-language film from the 77th Golden Globe Awards, best ensemble performance from the 26th Screen Actors Guild Awards, best original screenplay from the Writers Guild of America, and best foreign-language film and best screenplay from the British Academy Awards.
http://www.korea.net/NewsFocus/Culture/view?articleId=182250