A-Train takes you to birthplace of 'Arirang'
Railroad operator Korail launched its new Jeongseon Arirang A-Train on January 22, a new train tour that loops through Jeongseon County in central Gangwon-do (Gangwon Province).
The newly-launched A-Train service is the fourth of Korail's themed train tours, following the O-Line and the V-train which travel around the central parts of the peninsula, the S-Train, which skirts the oceans in the south, and the DMZ Train that symbolizes peace and integration.
Under the company's tour program, the A-Train will run once per day, departing from Cheongnyangni Station in northeastern Seoul and pass through several stations in Gangwon-do, including Mindungsan and Jeongseon, arriving at Auraji Station, its final destination, just after lunch.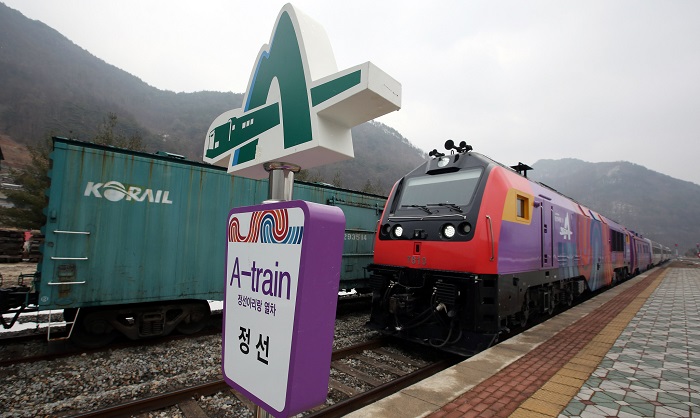 With daily departures from Cheongnyangni Station at 8:10 a.m., the A-Train arrives at Auraji Station at 12:40 p.m. The return train departs Auraji Station at 5:10 p.m. and arrives in Seoul at around 9:30 p.m.
While in Gangwon-do, the train takes a round trip around the region, making stops at several stations and offering convenient sightseeing to the passengers. The train departs Auraji Station at 1:40 p.m. and arrives at Mindungsan Station at 2:45 p.m. via Najeon, Jeongseon, Sonpyong and Byeoleogok stations. It then departs again from Mindungsan Station at 3:15 p.m.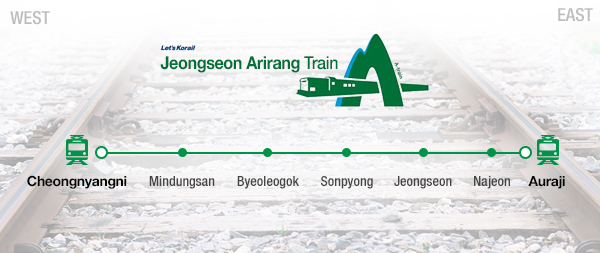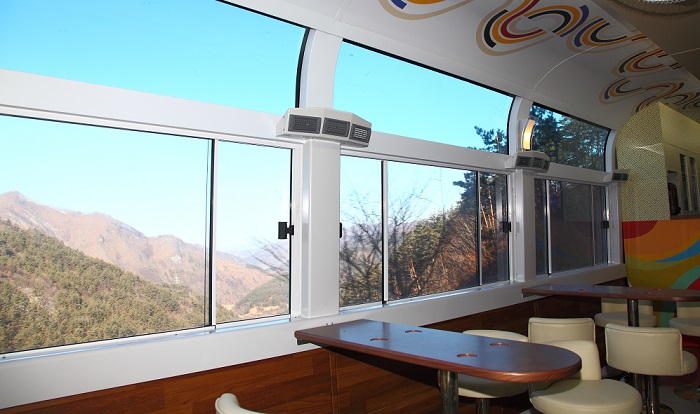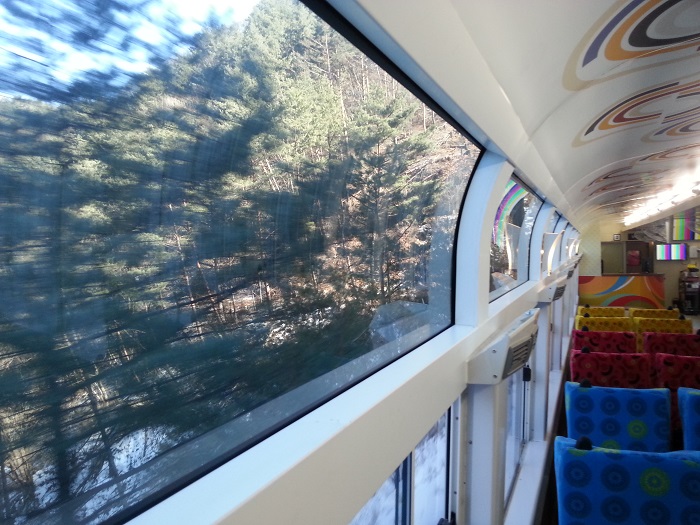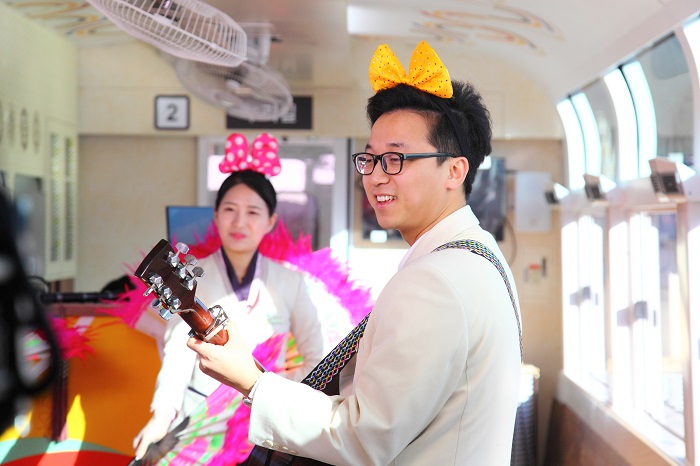 Both the exterior and interior of the train were designed by Tangerine U.K., a design and graphics agency. The exterior is decked out in the primary colors of red and blue, as well as in yellow and purple. The purple color palette is based on the Pulsatilla tongkangensis, Jeongseon's official flower. One of the merits of the train is that all of its four cars have larger windows than those found on any other train. The picturesque landscapes of Jeonseon County — mountains and rivers — unfold through the windows. In addition, passengers can get a panoramic view of the region's scenery through glass walls installed in both the first and last cars. Through the glass wall, they can get a glimpse into the lives of people in the region, characterized by abundant mountains and curving streams.
Also, the A-Train has a lot to offer inside the train for the roughly three hours of travel time.
During the trip, passengers can listen to the song "Arirang," which is almost always on, and enjoy a magic show, a quiz show and can take photos in Korail-prepared costumes and alongside drawings of cartoon characters. A number of tourists write notes about their thoughts and memories on postcards, placed throughout the train, and hang them on the windows.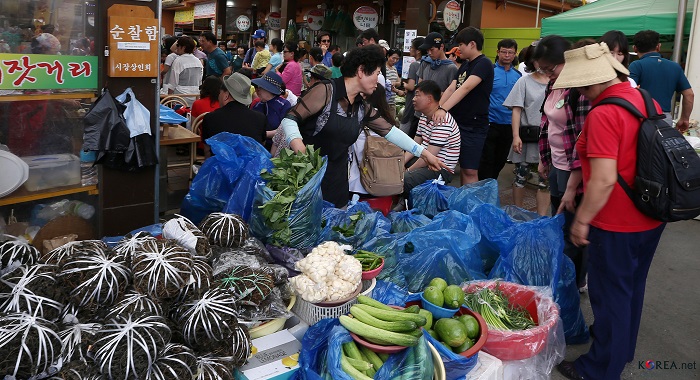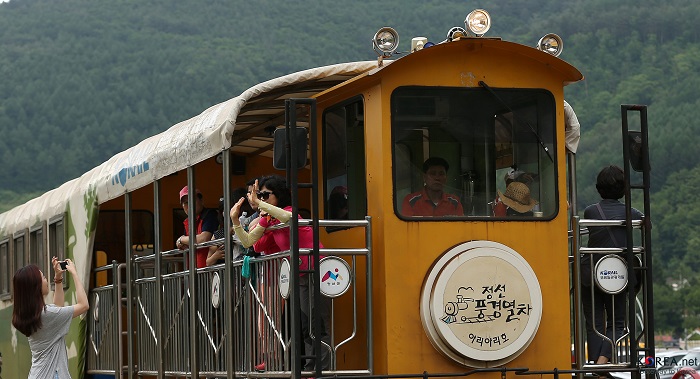 Korail recommends that A-Train passengers visit the Jeongseon Five-day Market and try some of the area's leisure activities, including a "sky walking experience," riding a zip wire and a pedal bike along an abandoned section of railway. The company also recommends tourists make a stop at the Hwaam Cave and at the village of Jurye, two of the most popular local travel destinations. Korail also provides related travel packages.
* A-Train prices:
Cheongnyangni-Auraji route: KRW 27,600
Mindungsan-Auraji route: KRW 8,400
Daily pass: KRW 48,000
More information is available at the official Korail website.
(www.korail.com)
By Lee Seung-ah
Photos: Jeon Han
Korea.net Staff Writers
slee27@korea.kr